Skip to main content

Emotional Well-being Group
We run a support group for women aged 18+ that experience anxiety, depression, stress and/or isolation. It is facilitated by one of our Counsellors, Barbara. The group is on every Monday (except Bank Holidays). There are two groups that you can access. One is at 1pm - 2.30pm and the other is 5.30pm - 7pm.

Please ring 0151 933 3292 or email contact@swanwomenscentre.org to make an appointment to talk with Barbara prior to coming along to the meeting. You can also use the form on the Contact page.
Swan Women Side by Side Support Group
This Side by Side support group supports young women aged 16+ that are struggling with feelings such as anxiety, depression or loneliness. This group is funded by Mind and Agenda and updates can be found on our social media pages.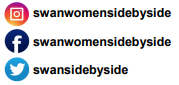 This group is on every Wednesday 5:30pm-7:30pm and Friday 9:30am-11:30am.

For more information please call 0151 933 3292 or email pw1@swanwomenscentre.org or pw2@swanwomenscentre.org to arrange an informal meeting.